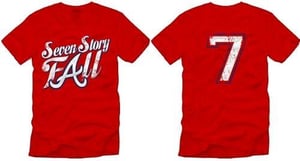 $

10.00 - On Sale
Represent 7SF and Atlanta!
Red Slim Fit Tultex Tee with 7SF on the front (Atlanta style!) and the number 7 on the back. FREE SHIPPING (within U.S.) and STICKERS are included!
(For international orders, please email sevenstoryfallmerch@gmail.com for a shipping quote.)
This Tultex shirt is VERY similar to American Apparel.